Teddy-Mac
Hi, Im Teddy-Mac!
Hi, My Name Is Teddy-Mac. Im a Pug, Chihuahua[Mix] And I Need a Good Home.
Animal:

Dog

Breed:

Pug, Chihuahua[Mix]

Sex:

Male

Age:

Young

Size:

Small
My Contact Info
Anaheim, CA

Phone: (714) 533-9281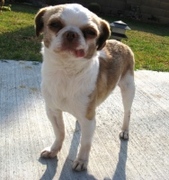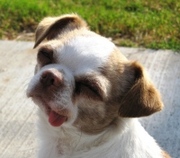 Teddy-Mac is a 2 yr old Pug- Chihuahua mix (aka a Chug! ) Teddy is incredibly sweet, good with other dogs, and an absolute character. He has a malaligned jaw that has caused him to have some wearing on his teeth, and also is the reason for the way his tongue sticks out of the side of his mouth (it that too cute or what!) Teddy also has luxating patellas, which means that his knees tend to slip in and out - this could require surgery in the future but for now at our vet's suggestions we are taking a "wait and see approach". Luxating patellas are common in both Chihuahuas and Pugs. For more information on this terrific little fellow contact Vicki (toll free) at 866-928-9952 for the initial interview. For more info on our adoption policies and to see all of our adoptable dogs please visit our website www.littlebowwowresuce.com
This pet is up to date with routine shots.
This pet has been altered.